Anyone even loosely versed in the subject of teaching abroad knows that high salaries are to be found in Arabic countries, most notably the UAE and Saudi Arabia. However, a location that gets less attention, whilst retaining the same great opportunities and benefits, is the peninsular paradise of Qatar.
Teaching in Qatar is a great way to expand and develop your teaching career through an exciting, challenging endeavor.
As many of the institutions deviate from a standardized curriculum or teaching model, educators have the freedom to instigate their own classroom methodologies.
With a steady influx of students, institutions seem to be constantly searching for new additions, meaning finding a job is a relatively enjoyable task.
Before you begin your job hunt, however, you may have many questions surrounding this gem that lays nestled near the Persian Gulf. Here is our complete guide to teaching in Qatar.
What kind of Education System does Qatar have?
Until recently, the Qatar Ministry of Education (MoE) and Supreme Education Council (SEC) resided over the state schools in Qatar.
However, there does exist many private institutions and international schools, which offer many variations or adaptations of international curriculums.
Unlike Dubai, where over 90% of schools and universities are private, education is free in Qatar.
In 2002, Qatar launched their Education for a New Era (EFNE) program, which aimed to transition to more student-centric learning practices, whereby teachers were encouraged to guide and facilitate learning, not simply dictate it.
After 2016, Qatar reshuffled the departments, resulting in the elimination of SEC so that now the Ministry of Education presides over all schools.
Independent schools are given semi-autonomy, to provide their particular style of education around the same core student-centric principles.
How Do I Get a Teaching Job in Qatar?
Some base requirements are:
Minimum of a Bachelors degree, with preference going to 4-year teaching degrees or undergraduate degrees with a Postgraduate Certificate of Education (PGCE)
At least 2 years of relevant teaching experience, with renowned schools usually asking for more than 5 years
English Language Schools will require a Bachelor's degree plus a TEFL/ESOL certification, ideally with experience
Other formalities include:
Full document legalization and authentication
Criminal Record Check from your home country
Medical Check to be performed in Qatar
Long-term contracts (1-3 years)
Generally speaking, you're going to need full qualifications to teach in Qatar, especially if you go anywhere near an international or private school.
As far as visas go, Qatar used to operate with the Kafala system, meaning that employees were tied to their respective employer.
This was considered controversial by ex-pats, as it limits their freedom of movement, as you had to obtain permission to leave the country.
The history of Qatar's worker laws is tumultuous.
Qatar's New labor laws in 2020 mean that teachers will no longer require their employer's permission to change jobs, or leave the country.
Your employer is still required to help out with your visa. It's also mandatory for employers to provide certain benefits, which can be an annual flight home, an education allowance if you wanted to learn Arabic) or health insurance contributions.
What Teaching Jobs Are Available in Qatar?
In most scenarios, teachers will have the options to teach either at an international school or an English language school or of course pursue private tutoring.
International Schools: there are 338 International Curriculum Schools in Qatar, so there are a great number of jobs posted every year, peaking at certain time times. These institutions provide the highest salaries, best learning facilities and classroom materials. High requirements, high expectation, high rewards.
Language Centers: as per the English schools in many countries, teachers will provide language lessons that aren't necessarily based on any one curriculum. The environments are often less formal.
What will my Teaching Schedule look like in Qatar?
If you're an early bird, teaching in Qatar might be the perfect schedule for you. In attempts to stay out of the scorching, midday sun, schools typically begin at 7am and finish at 2pm.
Early learners will actually finish earlier at 1pm, but many schools have after-school clubs until 2pm, to make it more convenient for parents.
The school year begins in September and ends in June, with three distinct terms. Teachers in Qatar can enjoy a long summer break, in which they usually return home.
You may require a multiple-exit visa, so prior arrangements should be made with your employer.
As part of the appropriation of the international curriculum, teachers will also get Christmas and Easter breaks at international institutions, which also close for the major public and Islamic holidays.
The prime example, of course, is the month of Ramadan. If it falls during term time, some schools will operate under reduced-hour schedules.
English language centers will obviously need to run outside of school hours, so foreigners will usually begin in the late afternoon, through the evening, and weekends.
What Kind of Teachers Does Qatar Want?
It's important to make the distinction between International Teachers and those who teach English abroad. In general, Qatar is interested in the former.
Independent, international schools offer a superior learning environment for their students. These institutions are solely interested in highly-skilled, experienced professionals.
Annual tuition is expensive at international schools, which reflects the great salaries they provide. Private establishments in Qatar require serious experts that have relevant experience in teaching primary or secondary subjects within a comparable curriculum.
Be prepared to work to consistently high standards to provide students at these schools with excellent lesson content and delivery.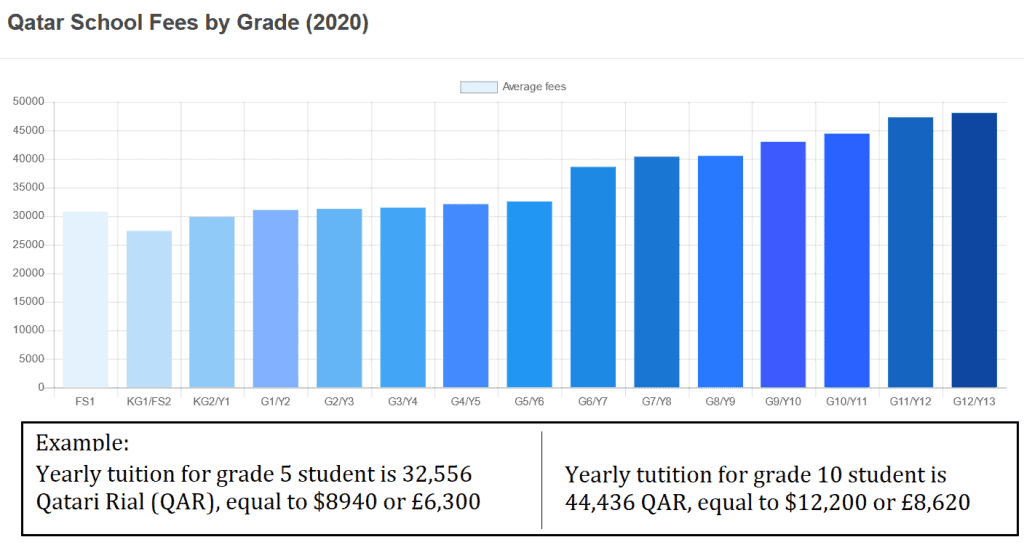 At international schools, students learn in both English and Arabic, so teachers of all subjects are needed. As with many countries, high-quality secondary-level educators are always in demand, with a specific interest in Science and Math.
Conversely, at language schools, teachers will need a degree and TEFL certification, so there is more scope for less-experienced. There is anecdotal evidence you can still find a job without a degree, but those opportunities usually provide less security and a lower salary.
How Much Money Can I Earn Teaching in Qatar?
You can expect to earn salaries ranging from 9,000 to 16,000 Qatari Rial (QAR), which is $2,500 to $4,400, or £1750 to £3100, providing you have a position as a fully-qualified teacher at an international institution. One important factor is that salaries are tax-free. In 2020, the minimum wage was bumped up 33% to 1,000 riyals ($270/£200) per month.
While Muslims may use a Qibla compass to find Mecca, teachers looking for high salaries have long been facing Dubai. Thus, it may surprise some to learn that Qatar offers higher average teaching salaries than Saudi Arabia.
Top-tier schools will also offer airfare tickets to Qatar, accommodation, and even health insurance.
As for the accommodation, the available selection varies. Some offer fully-furnished housing, whilst others will subsidize you, and occasionally you will have the offer to live in on-site housing, such as a staff complex or shared housing.
What is the Cost of Living in Qatar?
The cost of living in Qatar may pleasantly surprise you. The going estimate of a foreign, single person's monthly cost is 3,174 QAR, which is $870 or £615. Subsequently, teachers in this beautiful country can anticipate saving anywhere from $1,500 to $2500 each month.
If you live in the center of the capital city Doha, your rent will rise significantly, as well as a general increase in product and service prices. However, public transport remains cheap, even if you are on their renowned high-speed metro system.
With that being said, the Mercer 2020 Cost of Living Index places Doha, the capital of Qatar, at 109 out of 209 cities. This makes it cheaper than Jeddah, Saudi Arabia (104), Muscat, Oman (96) and Dubai, UAE (23).
This makes Qatar a great choice for teachers particularly interested in the culture of Arabic nations, with the auxiliary motive of saving serious money!
How are the Students in Qatar?
Off the back of the EFNE campaign, students are encouraged to be proactive and independent learners. Consequently, you will find many of them are highly attentive and hard-working.
If you take a position in an international school, many of the students will have different backgrounds. Qatar is an international hub of education.
While this most often means you'll be teaching students from the various Arabic countries, Australia or the US, students can be from anywhere around the world.
Teacher-student relationships are focused on creating a personal connection, whereby the teacher knows intimate details of each student.
Institutions highly value this dedication, so staying involved in each student's happenings and news is an important part of a teaching job in Qatar.
What are the Laws of Qatar?
Like many countries across the globe, the freedoms and privileges of the Western world don't appear in full. Qatar is a Conservative, Islamic country.
As a result, there are rules that ex-pats must follow. Some noteworthy restrictions are public gestures, alcohol and dress code.
Public Gestures: swearing or rude gestures are considered obscene actions; posting material online that insults or is culturally insensitive is also seen as unlawful; even pointing or signing thumbs-up is impolite
Alcohol: Foreigners will require an alcohol permit, meaning you can buy and drink alcohol, but only in a private residence. Drinking in public is a serious offence, which is punishable by detention or deportation.
Dress Code: dressing in a provocative or revealing manner is not allowed in Qatar. You should cover up and wear modest clothing.
Additional points of consideration are the fact that homosexuality is illegal in Qatar, and any public displays of affection (both men and women) can also lead to arrest.
The country bases their legal system on Islamic law, so many minor offences in Western countries can incur heavy punishment in Qatar.
It is advised that foreigners undertake extensive research on the particular laws of the land, to avoid making honest mistakes, which could lead to misfortunate situations.
Further, foreigners should carry their documentation at all times, just to be covered.
Some previous visitors and teachers have reported that, though the laws are very much enforced, the locals are fairly tolerant of Western ideologies, meaning teachers can live a relatively unchanged lifestyle, with a little tact and consideration for the Qatari customs.
What is the Culture of Qatar?
By virtue of being an Islamic country, much of the behavior, and thus culture, is based around these religious laws.
Though Qatari law allows religious freedom, expatriates need to understand that religion is intertwined with social etiquette and culture.
Qataris are very friendly, generous people. If you are invited to a household, it is recommended that you accept. The home is a symbol of identity in Qatar, so you can quickly discover much about the culture through these visits.
If you like coffee, you'll probably develop a deeper connection to it when teaching in Qatar.
Coffee is central to the Qatari culture, and they consume 2.2kg of it per capita. "In Qatar, coffee is mixed with cardamom, saffron, and a hint of coffee mate," states Coffee Business Intelligence, "sugar is never added, in order to preserve the strong taste."
If you'd prefer a club over a cafe, you may be disappointed to teach in Qatar. Thrill-seekers and party-goers should probably look elsewhere, as the pace is much slower and more relaxed here.
Why should I teach in Qatar?
Other than the clear financial gains to be had in Qatar, the country offers a unique experience for foreign workers.
Yes, it's a great place to teach English abroad for a year, but there are significant opportunities for long-term teachers to expand their careers.
Educators will benefit from the considerable training and development that will be available in international or private schools.
The school timetable means that teachers can have a fantastic work-life balance, ideal for those who have other responsibilities, be that professional or family.
There is little risk of burning out under the usual stress of a teaching position. Meanwhile, a tax-free salary, with free accommodation, means there's little financial stress either.
With a teaching job in Qatar, you will have more than enough time and money.
With convenient routes to other popular destinations, such as Greece or Turkey, a stone's throw away, or the large existing ex-pat community, there are decent ways to spend both.
Similar Posts: