1. Deciding to Teach in Dubai
Two years, I had told myself. Two years and then we would move back home, buy a house and settle down.
But here I am, five years later, sat looking out of my window across the skyline of Downtown Dubai wondering where the time has gone. I moved here as a Year Six teacher, young and eager to explore, travel and experience the world that I felt I had missed out on as a student-teacher.
My small stint in Ghana, as a volunteer, had given me a taste and a realization that teaching really is an international skill and could be my ticket to some enriching life experiences.
So, after three great teaching years in rainy Manchester, I moved with my partner (now my wife) out to the Middle East.
I had some apprehension at first. I didn't believe in 'private education' and I didn't necessarily think that Dubai was 'my kind of place'. But I also realized that if I was to travel and teach in different cultures and countries, there would always be a compromise on what I believed education should be.
There is always compromise in any education system and out in Dubai would be no different.
And – I soon discovered that you can make Dubai whatever you want it to be.
2. How to Find Dubai Teaching Jobs
Searching for jobs in the UAE was relatively straight forward and before I knew it, I was sat on Skype talking to a headteacher who was 2000 miles away, telling him everything I could about my teaching style, experience and anything else believed sold myself as the best candidate.
No lessons observation, just a good old 30-minute chat that could potentially change your life – no big deal.
What enticed me into this school was that it was inclusive and non-selective. Yes, parents paid fees, but children were accepted regardless of their ability and needs.
It was also a new school, and so with the position came an opportunity to influence, implement and mould the school's policies and procedures – something that I had enjoyed doing greatly in my previous school.
I soon realized that the interview process was not just for them to see if they wanted me, but an opportunity to see if I wanted them.
Were they going to provide me with new opportunities and were they going to support me?
3. Where to find teaching vacancies in Dubai
You can find vacancies for teaching jobs in Dubai in the same way you would find a job in your own country. You can check the TES website, The Guardian or a host of specialist international job agencies such as teachingabroaddirect.co.uk, seekteachers.com or teachwaway.com.
After a week or two of waiting, I was offered a teaching position. The 'package was a fairly typical package for a UAE teacher. A salary, accommodation, health insurance, annual flights home and extra-long holidays in the summer (2 months to be precise).
I'm not sure why but I accepted straight away, the school felt right, and the opportunity excited me, now all there was left to do was get there…
This was the next hurdle and with it far more compromises than I anticipated.
4. Relocating to Dubai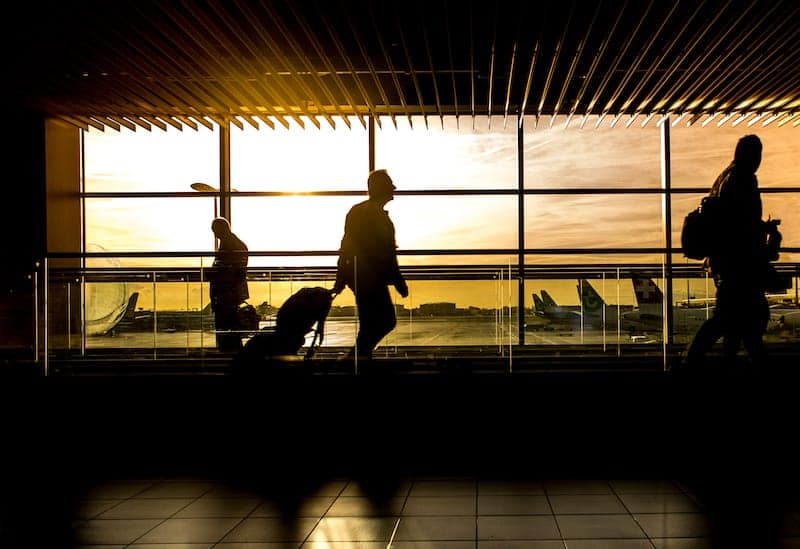 First of all, we had to choose what to ship and what to leave behind. The winter jumpers were the first to stay for obvious reasons but narrowing down everything to fit into the one cubic meter of the shipping container was more difficult than it sounds!
Then there were the goodbyes and the tears and the guilt of leaving your family and friends behind.
In reality, you are only 6 hours away from everyone by plane. It doesn't take long to be back home, sat in front of the TV, watching Coronation Street, while rain patters on the window.
Alternatively, people can visit you. You would be amazed to find out just how many friends you didn't know you had until you moved out to Dubai and beach life becomes your staple weekend activity.
After taking a few months to settle and set up life, I found myself enjoying the outdoor lifestyle that the UAE has to offer. The glitz and glam were not for me but the sports, beach, and travel had me hooked.
5. The Benefits of Teaching in Dubai
The attractive contract packages gave me financial flexibility that I had not had back in the UK. A combination of paying student loans, rent and car insurance really left me with very little at the end of the month.
In Dubai, my accommodation, health insurance and visa were all paid for and I found myself working with a disposable income. Half terms had turned from catching up on the latest TV series to flying off to new countries and locations.
Sri Lanka, Thailand, Zanzibar and Oman were just some of the locations I had the opportunity to explore.
6. Teaching Benefits in Dubai
Benefit
Benefit Details
Salary (Monthly)
US$2500-US$5500 (£2000 – £4250)
Usually Tax-Free!
Some also have a 1-month salary bonus per year.
Airfare
Most positions also include a yearly airfare home.
Working Hours
35-40 hours/week. 5 days per week (Sunday-Thursday).
Accommodation
Housing allowance or accommodation is provided as part of the package.
Vacation
Approx Mid-July to September plus national holidays.
Health Insurance
Usually provided by your employer.
Duration of Contracts
2-3 years.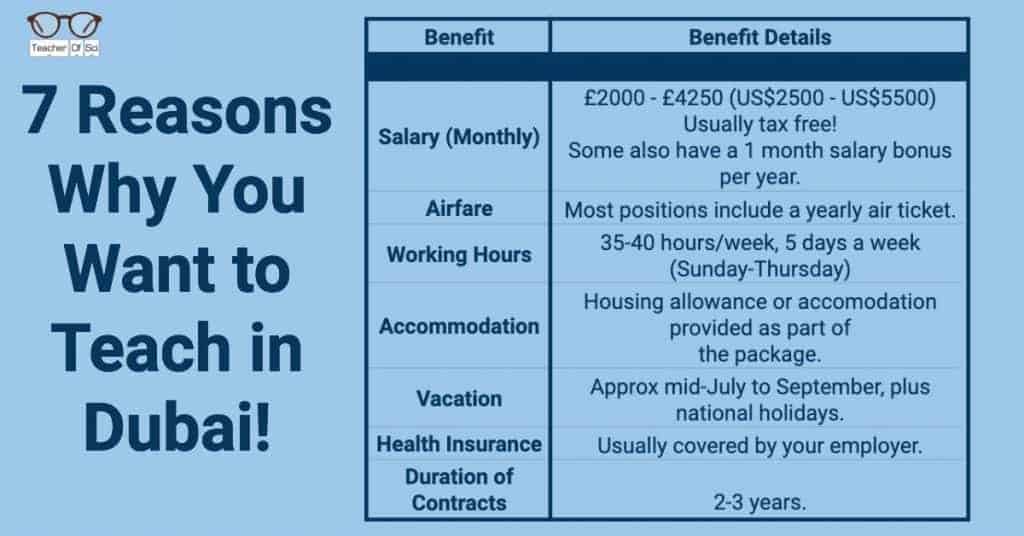 7. Living in Dubai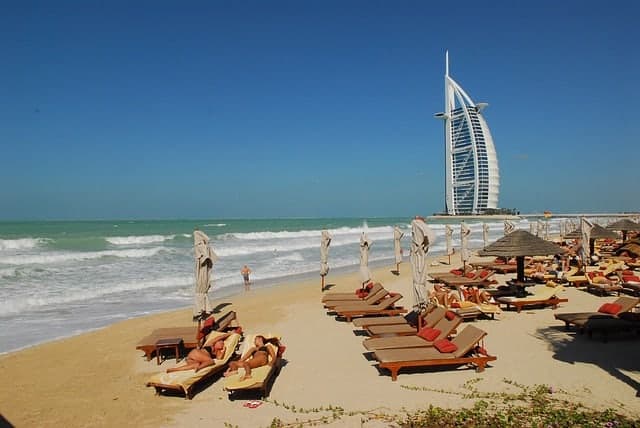 Weekends were no longer rainy days inside but road trips to the beach or mountain biking in the sun. Not to mention, I found myself enjoying the school I worked for – a private school too!
The English National Curriculum is a highly regarded education system across the globe. My class had over eighteen different nationalities and cultures. They would teach me, just as much as I would teach them and so I found myself growing not just professionally but as a person too.
What struck me was how children are so accepting of each other's cultures.
There were children who were best friends from two different countries that politically should not have been getting along.
Did they care their countries hated each other? No. They were more bothered about who was going to go in goal at lunchtime.
In the melting pot of Dubai, where locals make up less than 10% of the population, accepting people's differences just becomes second nature.
The school as a whole provided great opportunities for me too. As a new build, I was surrounded by 21st century classrooms and facilities. I felt I could be as creative as I liked, making full use of the green screen rooms, recording studios and outside space.
8. Living in Dubai as a Woman
As the UAE is a Muslim country there are stricter rules than in many western countries. Women may find it a little more difficult to be respected by some male colleagues (depending on where they are from), also women are expected to cover up more than they usually would when leaving ex-pat communities. They may get in trouble with the police for wearing anything revealing. Here is some great advice from the lonely planet on women living in Dubai
9. Education in the UAE (United Arab Emirates)
Dubai's education sector is rapidly expanding and with it comes lots of opportunities to climb the ladder relatively quickly. Not to mention that, due to the large size of schools, there a wider range of leadership opportunities available.
After a few years, I had taken on various head of year roles and was now leading teaching and learning across the whole Primary. After three years, I was promoted to Assistant Principal – A role which I love!
I have yet to decide when I will head back to the UK. Both my wife and I are having too much fun.
Dubai and teaching abroad is what you make it. You build your own life. We built ours out here in the Middle East. Teaching really is an international profession that can provide any opportunity you allow it to.
All you need is an open mind, some compromise and a passport.
10. Teaching in Dubai FAQ
How Much Do Teachers in Dubai Earn?
US$2500 – US$5500 (£2000 – £4250) Usually tax-free! The salary is dependant on the role, your experience and type of school. Some schools also give a 1-month salary bonus per year.
What Benefits Do Teachers in Dubai Get?
High salary and bonuses, air ticket home once per year, amazing accommodation provided (or generous allowance), long holidays, health insurance is included, warm climate, proximity to wonderful countries to visit.
What Qualifications Do You Need to Be a Teacher in Dubai?
Teacher positions in Dubai require you to have a valid teaching qualification/certificate/license in your home country or state/region. Most positions also require teachers to have at least two years of classroom experience at the appropriate age and in the subject you are applying to teach.
What Are the Downsides of Teaching in Dubai?
For some, the climate might be too warm (up 41ºC or 106ºF) in August. As the UAE is a Muslim country, women are required to cover up outside of the ex-pat communities.
What Is the Teacher Dress Code in Dubai?
Teachers are required to dress professionally. Formal business wear is not usually required, business casual is usually the norm. Shorts, Jeans and casual clothes and footwear (flipflops or sandals) are NOT allowed.
Similar Posts: