Have you ever wondered if starting a tutoring business would be a good idea for you? Many teachers around the world tutor to supplement (or even replace) their teacher salary. It can be done either in person or online
Is starting a tutoring business a good idea? Starting a tutoring business is a great option for those teachers who want to supplement their income or even leave the classroom altogether. It uses the skills you already have and can be quite lucrative. Online tutoring is in its advent, so no longer are you limited to your local area.
Why Start a Tutoring Business?
Sadly many teachers around the world are forced to supplement their income by starting a tutoring business.
Private Tuition Statistics.
In the US approximately 5% of teachers have tutoring jobs. While this may seem like a small percentage, there are 3.2 million teachers in the US.
In the UK there are over half a million full-time teachers and by some estimates around a million private tutors.
This disparity in numbers is evidence that there is a vast amount of teachers earning money as a tutor either part or full time.
However, there are lots of unqualified teachers tutoring in the UK.
Having actual teaching experience therefore makes you a desirable commodity!
Tutoring businesses can take many forms. From the most basic, where teachers visit students in their homes for private 1-2-1 tutoring sessions (this is what I do) to having a property that multiple students come to.
There is also a huge growth in online tutoring. Many companies have sprung up who employ teachers to tutor their clients.
Many of these are started by teachers like you.
You could do the same!
It can actually be fun and quite lucrative. I've been doing it for many years and have enjoyed doing it for the most part.
In this article, we will look at both in-person and online tutoring and hear from 7 teachers from the US, the UK and Greece who make a substantial income from their tutoring business.
Some of the teachers in this article tutor as a side job (including me), whereas some have made it a full-time job. There really is a huge scope for tutoring.
I'll also give you my own thoughts from my experiences.
With these case studies, you will be able to work out if tutoring is a good fit for you.
Let's you started! (we'll get me out of the way first!).
Starting a Tutoring Business, 7 Case Studies.
Paul Stevens-Fulbrook (UK)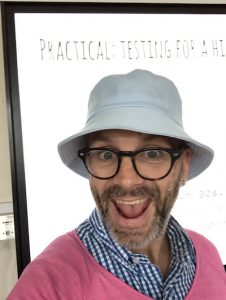 Name: Paul Stevens-Fulbrook
Age: 45
Position: Head of Year 7 and 8 Science and education blogger (obviously!)
Location: Brighton, UK
How I got started:
I started tutoring in my second year of teaching to help pay my bills and earn a little extra to take my children out more. It was also something I'd not done before and as I love new challenges, I decided to give it a go.
I have tutored every year since. I only take private clients in my local area and go to visit them at their house. I tutor Biology, Chemistry and Physics at high school level and Biology at A-Level and University level.
How do I spend this tutoring money?:
The money I make from tutoring still goes towards my regular bills and petrol costs of getting to my main teaching job. It allows me to have a buffer every month rather than running out of cash before payday.
When I started I charged £20 per hour but it has been increasing since (due to inflation, my expertise and my reputation).
I rely mainly on word of mouth to find clients these days but have used tutorhunt.com and Facebook groups previously.
What do you love about it:
It really depends on the student. I'm not going to lie, sometimes, if they have been forced to do it by their parents and are not engaged with it, it can be hard going.
However, most of the time you are working with a student who wants to improve and you can develop a good, often fun working relationship.
This deeper connection allows you to really delve into the topic and because it is a one to one situation you can help the student make huge progress.
I usually have a great time tutoring, I even look forward to it sometimes. (Free tea and cookies help too!!)
Tips:
It is not school, don't treat it as such. Remain professional but informal, students will engage more strongly.
Don't approach it like you would a normal class lesson plan, setting tasks for them to do during the session is not making the most of the money they are paying you.
I tend to get them to prepare what they want to learn and then I just read through a textbook with them, explaining misconceptions, tricky parts and probable exam questions.
Allow them to lead on what the session should focus on, this builds trust and lets them become more independent learners.
Don't be afraid to go off-topic in a way you wouldn't in a classroom.
I always teach them study and exam techniques as these are not usually covered sufficiently in most schools, at least not individually tailored to the student.
Dr Dawn Lott (USA)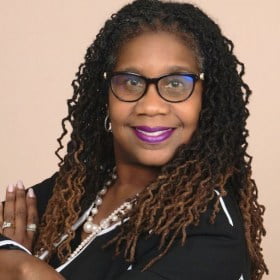 Name: Dr. Dawn A. Lott.
Age: 54.
Position: Dr Dawn A. Lott is a Professor of Applied Mathematics at Delaware State University in Dover, Delaware.
Location: Dover, Delaware, USA.
How she got started:
I was introduced to takelessons.com by my sister, Sonya Morgan, who raved about utilizing them for her own online sewing classes.
I created my takelessons site and I have been enjoying helping students across the country improve their mathematics skills and performance.
How do they spend this tutoring money?:
The tutoring money goes into my general bank account and it is utilized to do activities with my husband and daughter.
What do you love about it:
I absolutely love working with the students! It is a joy to see them light up when they understand a topic on which they have been struggling.
Additionally, when a student sends me his/her report card and it shows an increase in the mathematics grade, I know that my tutoring is making a positive difference in the life of my online students.
Tips:
A tutor must connect with the student in a way that makes the student feel comfortable with your style of teaching.
Most importantly, the tutor has to meet the student at his or her level and introduce topics at the student's pace.
Consistency is important.
A tutor should work with the student weekly and share all of the written material with the student so that he/she has notes to review.
Lastly, praise the student for little accomplishments. It encourages the student and motivates his/her to want to learn more.
You can find out more about Dr Dawn Lott on her takelessons profile.
Pat Sykes (UK)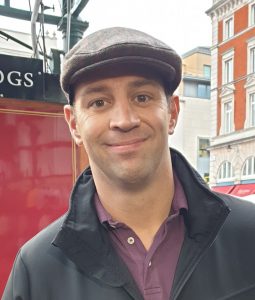 Name: Pat Sykes
Position: Head of Year 10 and Math teacher.
Location: Sandwich, UK
How you got started:
I started by helping students in my school to bridge the gaps in their learning. After this was successful I decided to do this as a side job, tutoring students 1-2-1 for math.
I helped lots of students build up confidence in their own learning and by doing this they saw their grades increased.
After helping a number of Year 11 students who had been struggling to reach their projected grade, I decided I'd go one step further and open a Saturday Math clinic for small groups of Year 10s and 11s to build confidence and gain GCSE practice.
This small group setting has worked, and with regular attendance, we have seen students raise their grades by at least 1-2 grades.
How do I spend this tutoring money?
Tutoring money goes towards family holidays and family life meals out or days out.
What do you love about it:
I love seeing a student have lightbulb moments and seeing how much their confidence grows in being able to answer questions.
Tips:
Make it fun, have a framework to work within and enjoy what you do!
You can find out more about Pat at s12tutoring.com
Susanna Sonnenberg (USA)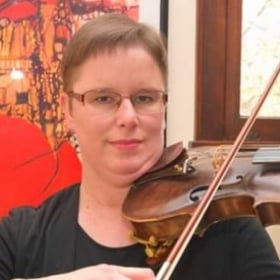 Name: Susanna Sonnenberg
Age: 50
Position: Self-employed private tutor since October 2015 (making approx. $90K annually). Ex K12 music teacher
Location: Pittsburgh, PA
How she got started:
I started teaching private violin, viola and cello lessons in October 2015 on takelessons. I offer online and in-person lessons at my home for 30, 45 or 60 minutes.
This started as a side job for me when we moved to Pittsburgh and I couldn't get a job with a school district. Within 6 months, it turned into a full-time job, where I was teaching over 50 students per week.
This job became my family's prime source of income when my husband lost his job in 2016 and had to start over.
Currently, I teach over 60 students per week and around 60% of my students are online lessons. I have students all over the United States and several international students.
I love what I do and meet people with all types of backgrounds and of all ages. I teach as young as 6 years old to students well into their 70s.
My current rates are:
$33 for 30 minute lessons.
$44 for 45 minute lessons.
$55 for 60 minute lessons.
My experiences since 2015 have been incredible. I have helped a student place in a competition and have the opportunity to play in Carnegie Hall in New York City, two years in a row.
I have school-age students who play in their school orchestras and in local youth orchestras and hold leadership positions in their orchestras.
I also have adult students who have auditioned and been accepted into local community orchestras. I have one adult student who still takes lessons from me and has been able to start her own side business of teaching violin lessons.
I have adult students who are picking up an instrument for the first time in their lives and other adults who played as children and then stopped for many years and come back to it as adults. I have a few students who take 2 instruments with me like violin and cello lessons.
I am currently helping a high school student prepare for a pageant she has entered in March 2020.
How do I spend this money?:
Initially, this money supplemented my husband's income until he lost his job in 2016. After that, I became the primary income source.
My income has paid for everything over the last few years and allowed my husband to change careers and go into real estate. I expect he will probably out earn me in the next 2 years as a realtor.
Currently, I pay the monthly expenses and his income has been allowing us to do home improvements.
What do you love about it:
I love everything about it. I love music and teaching. I love being able to meet and work with students all over the world and share my love of music with them.
Currently, I have a student in Finland and students in about 20 states in the United States.
I am able to teach what I am passionate about and support my family at the same time, without relying on a school district or an employer.
At first, it was a little scary wondering how I would get my next student, but now I know there is always another student and I trust my marketing.
I am able to teach where I want to teach, who I want to teach, when I want to teach, why I want to teach and how I want to teach.
This is the job I will keep until I retire.
Tips:
Be flexible. Open up all time slots you are willing to teach. Put down any and all subjects you feel comfortable teaching. Be willing to work with adults, this is a huge market currently.
Do some research. Ask around in your community for current rates of other teachers with similar experience to you. Look at online sites to see what other teachers offer and their rates.
Market yourself. Create flyers and post on local community boards, use social media to let people know what you offer, get business cards made and share them with everyone, put profiles on some sites like takelessons.com to help you hit a larger market.
When creating profiles, be detailed and list all of your experience, no matter how big or small. Get recommendations from current and past students, employers, co-workers, etc… Be yourself and put your best foot forward.
Pictures/Videos/Websites – post pictures of you and your students. Make videos to introduce yourself to potential students. Create a website for your business and get it in Google.
You can find out more about Susanna on here takelessons profile.
David Wills (UK)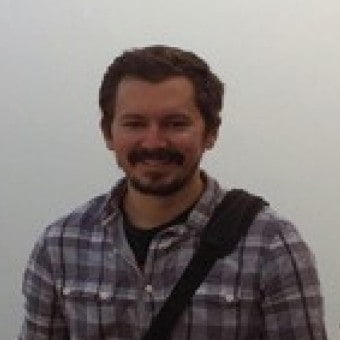 Name: David Wills
Position: David is a lecturer, editor, and author.
Location: UK, but has tutees worldwide.
How he got started:
I started my tutoring business three years ago through a small website and it now gets enough traffic to keep me in business.
I charge about $50 per hour and conduct lessons entirely via Skype because my students tend to be from different places around the world.
In the past, though, I did a lot of local face-to-face lessons and I preferred that, but it's no longer an option.
I've done a lot of tutoring throughout my teaching career, and I still spend a few hours a week at least tutoring people via Skype.
My speciality is teaching grammar and other writing skills, so that's what I typically focus on in my tutoring lessons.
Tips:
I would recommend for anyone wanting to start tutoring that they make a
reputation for themselves first. That sometimes means doing a little work
cheaply or even for free in the beginning. You can build from there and
start charging more once you have people who are interested.
If you do want to tutor online, it can help to have YouTube video
lessons that they can see in advance, as well as endorsements from previous
students.
You can find out more about David at ted-ielts.com
Heather Krey (USA)
Name: Heather Krey
Position: Owner and Director of Test Prep for Success.
Location: Allentown, PA
How she got started:
I currently work full time as the owner and director of Test Prep for Success, a small independent tutoring center in Allentown, PA.
However, I tutored as a "side job" for many years before I opened TP4S. When I worked on my own, either by going to the student's home or meeting in a public location, I charged $60 per hour and tutored about 10 hours per week.
Now that I have a physical location and a license from the Department of Education, I charge a top price of $80 per hour.
However, most of my customers purchase tutoring in the form of a package and end up paying $70 or less.
As a professional educator, it's really important to me that my help is available to all students regardless of their parent's ability to pay, so I have an application for a reduced rate based on family income available on my website.
Even though it comes out of my pocket, I've never denied financial assistance to anyone who has asked for it.
You can find out more about Heather at tp4s.com
Vasiliki Baskos (Greece)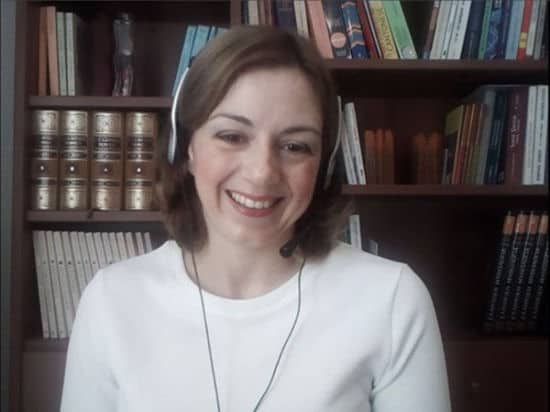 Name: Vasiliki Baskos
Position: Teacher of Modern Greek
Location: Greece
How she got started:
In 2002 I received my degree in Greek Language & Literature. I worked at Greek public schools from 2006 to 2012.
At the same time I worked as a private tutor.
Working as private tutor is very common for teachers here in Greece, either as full-time job or side job.
A student from abroad asked me for Greek lessons. This was my first attempt to teach Greek as a foreign language.
It was a success and I liked it.
When another student moved away, we continued lessons via skype. So the idea of online lessons was born.
In 2013 I founded learn-greek-online.com: it is an online service where we teach Greek as a second language via skype.
I started it alone, but as it grew, several other teachers joined and we work together now. We charge 250 euros per 10 lessons. We also have half sessions (they last 25 minutes) for small kids. We charge 180 euros for 10 such half sessions.
I devote my time to online teaching only, which is now my full-time job. We have somebody else to help with the technical stuff, the marketing, advertisements etc.
We also have a forum (https://learn-greek-online.com/ask-greek/) where anybody can ask a question related to the Greek language. I personally answer.
This also takes several hours of my time per week. But I am happy to think that we offer a unique service, for free.
The whole endeavour proved to be a great experience. I learned very much about business, people and myself.
You can find out more about Vasiliki at learn-greek-online.com
How to Find Tutoring Clients
You can register yourself on one of the tutoring websites. I suggest checking out the following:
Conclusion
It is clear that starting a tutoring business is a viable option for those teachers who want to supplement their income or even, leave the classroom altogether.
With that advent of online tutoring, many teachers are using their expertise to help educate people globally. No longer are you limited to your local area.
Do you have any questions or experiences that may help others? Share them in the comments section below.
Starting a Tutoring Business FAQ
Can I Run a Tutoring Business From My Home?
As long as you fulfill the legal requirements in your state and/or country, yes you can.
Do Students Have to Come To My Home?
No, they can do but it is more common for you to visit their home or tutor online (either with a existing online tutoring company or on your own using a service like Skype).
Is Tutoring Profitable?
The short answer is yes. You have very valuable skills and depending on your experience and/or the level of study you are tutoring, you can make very good money.
Is Tutoring Fun?
Many teacher including myself, find tutoring commonly more fun than classroom teaching. This is due to several things; you can pick and choose who you teach, you are not bound by a schools curriculum, there are less admin tasks and you often build a stronger working relationship with your students (meaning they make more progress).
Similar Posts: