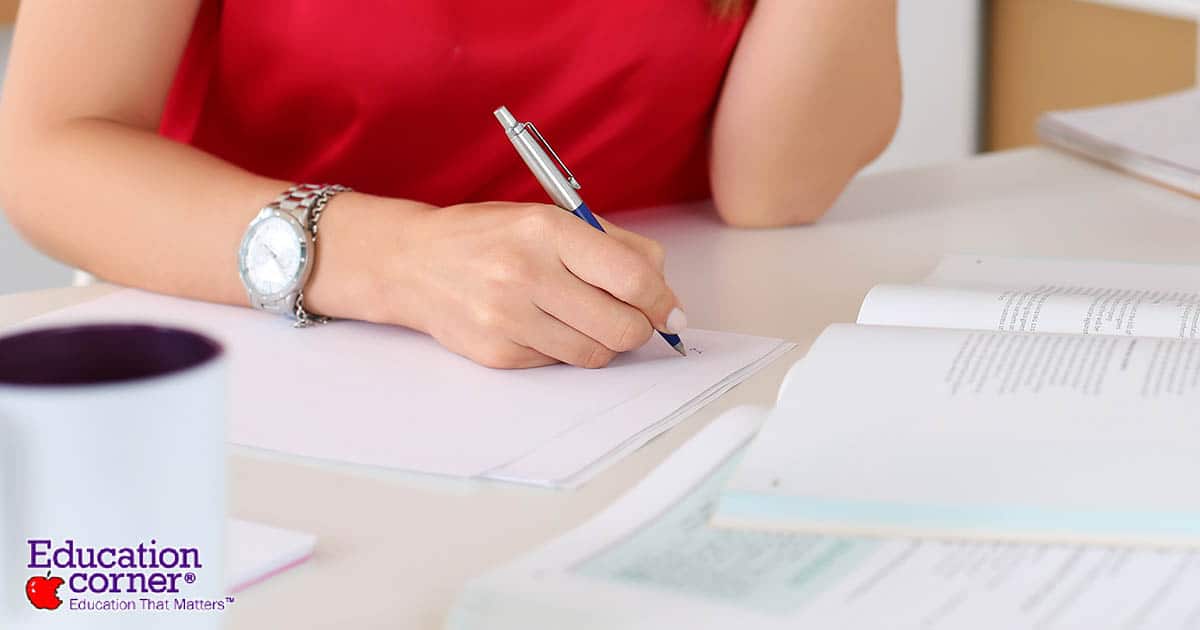 Essay Test Strategies
Essay test questions can be very intimidating, but they can also be very rewarding. Unlike other types of exams (i.e., multiple choice, true or false, etc.) essay tests allow you develop an answer based on your understanding or knowledge. If you've studied all semester, understand the course concepts, and have reviewed prior to the test, the following strategies can help you improve your performance on essay tests and exams.
Read the directions.
Reading the directions seems so obvious. Unfortunately, it's still one of the biggest test taking mistakes students make. Before answering an essay question, thoroughly read the instructions. Do not jump to the answer without being sure of what exactly the question is asking. In many cases, the teacher is looking for specific types of responses. Never assume you know what is being asked, or what is required, until you've read the entire question.
Ask for clarification.
Read essay questions in their entirety before preparing an answer. If the instructions are unclear, or you simply don't understand a question, ask the teacher for clarification. Chances are if you're confused so is someone else. Never be scared to ask for clarification from your teacher or instructor.
Provide detail.
Provide as many details and specific examples when answering an essay question as you can. Teachers are usually looking for very specific responses to see whether or not you've learned the material. The more relevant detail you provide, the higher grade is likely to be. However, only include correct, accurate and relevant information. Including irrelevant "filler" that doesn't support your answer will likely lower your grade.
Budget your time.
Manage your time wisely when answering essay questions so you are able answer all the questions, not just the easy or hard ones. If you finish your test before time is up, go back and review your answers and provide additional details. We recommend answering those essay questions you're most familiar with first and then tackling more challenging questions after. It's also not uncommon on essay tests for some questions to be worth more than others. When budgeting your time, make sure to allocate more time to those questions that are worth the most.
Follow the instructions.
When a question is only requiring facts, be sure to avoid sharing opinions. Only provide the information the instructions request. It's important to provide an answer that matches the type of essay question being asked. You'll find a list of common types of essay questions at the bottom of this page.
Be concise.
In your answers, get to the point and be very clear. It is generally best to be as concise as possible. If you provide numerous facts or details, be sure they're related to the question. A typical essay answer should be between 200 and 800 words (2-8 paragraphs) but more isn't necessarily better. Focus on substance over quantity.
Write clearly and legibly.
Be sure your essays are legible and easy to understand. If a teacher has a difficult time reading or understanding what you've written, you could receive a lower score.
Get organized.
Organize your thoughts before answering your essay question. We even recommend developing a short outline before preparing your answer. This strategy will help you save time and keep your essay organized. Organizing your thoughts and preparing a short outline will allow you to write more clearly and concisely.
Get to the point. Focus on substance.
Only spend time answering the question and keep your essays focused. An overly long introduction and conclusion can be unnecessary. If your essay does not thoroughly answer the question and provide substance, a well developed introduction or conclusion will do you no good.
Use paragraphs to separate ideas.
When developing your essay, keep main ideas and other important details separated with paragraphs. An essay response should have three parts: the introduction; the body; and the conclusion. The introduction is typically one paragraph, as is the conclusion. The body of the essay usually consists of 2 to 6 paragraphs depending on the type of essay and the information being presented.
Go back and review.
If time permits, review your answers and make changes if necessary. Make sure you employed correct grammar and that your essays are well written. It's not uncommon to make silly mistakes your first time through your essay. Reviewing your work is always a good idea.
Approximate.
When you are unsure of specific dates, just approximate dates. For example, if you know an event occurred sometime during the 1820's, then just write, "in the early 1800's."
Common Question Types on Essay Exams
Being able to identify and becoming familiar with the most common types of essay test questions is key to improving performance on essay exams. The following are 5 of the most common question types you'll find on essay exams.
1. Identify

Identify essay questions ask for short, concise answers and typically do not require a fully developed essay.
Ask yourself: "What is the idea or concept in question?", "What are the main characteristics?", "What does this mean?"
Keywords to look for: Summarize, List, Describe, Define, Enumerate, State
Example question: "Define what is meant by 'separation of church and state.'"
2. Explain

Explain essay questions require a full-length essay with a fully developed response that provides ample supporting detail.
Ask yourself: "What are the main points?", "Why is this the case?"
Keywords to look for: Discuss, Explain, Analyze, Illustrate
Example question: "Discuss the differences between the political views of democrats and republicans. Use specific examples from each party's 2017 presidential campaign to argue which views are more in line with U.S. national interests."
3. Compare

Compare essay questions require an analysis in essay form which focuses on similarities, differences, and connections between specific ideas or concepts.
Ask yourself: "What are the main concepts or ideas?", "What are the similarities?", "What are the differences?"
Keywords to look for: Compare, Contrast, Relate
Example question: "Compare the value of attending a community college to the value of attending a 4-year university. Which would you rather attend?"
4. Argue

Argue essay questions require you to form an opinion or take a position on an issue and defend your position against alternative positions using arguments backed by analysis and information.
Ask yourself: "Is this position correct?", "Why is this issue true?"
Keywords to look for: Prove, Justify
Example question: "Argue whether robotics will replace blue collar manufacturing jobs in the next ten years."
5. Assess

Assess essay questions involve assessing an issue, idea or question by describing acceptable criteria and defending a position/judgment on the issue.
Ask yourself: "What is the main idea/issue and what does it mean?", "Why is the issue important?", "What are its strengths?", "What are the weaknesses?"
Keywords to look for: Evaluate, Criticize, Evaluate, Interpret
Example question: "With respect to U.S. national security, evaluate the benefit of constructing a wall along the southern border of the United States of America."