The Forgetting Curve
Reviewing notes in detail following each class, or at minimum sometime during the day before you go to bed, will greatly increase your ability to recall what you've learned, as the graph shows. At the end of nine weeks, those students reviewed their notes within a day recalled about 75% of what they'd been taught. Those students who did not review their notes following class were not able to recall even 50% of the information covered during the lecture after one day and only slightly than 20% of the information nine weeks later.

The fact of the matter is that we learn and remember through repetition. During your review of your notes we also recommend that you add any additional information you recall from class lecture or add questions in the margines to help you study the material later. During your review of your notes you may also find that you don't understand some of the information you wrote down and that need to ask the professor, TA or another student for clarification.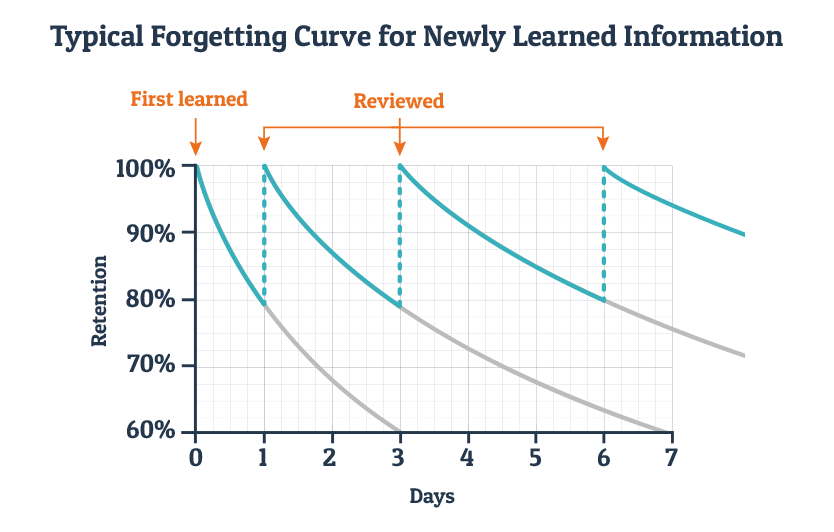 Featured Student Profile

Learning Anytime, Anywhere.


...even from a remote island!




More and more students are turning to the Internet and online distance learning programs to earn their degree in a virtual classroom.



Learn how an aspiring college student earned his graduate degree in organizational management and never set foot in a classroom.


Read his story
College Degree Finder
Search our national database of online and campus based college degree programs.
Education Articles
Obama Calls for New Steps to Prepare America's Children President Obama Calls for New Steps to Prepare America's Children for Success in College and Careers.



Getting Motivated for Online Education Although completing college or learning new skills online can be fun, it does pose some different challenges.



Facing your Fears of Returning to School as An Adult Many adults wanting to make a career change or return to college do not do so because of fear.


See More