Vocabulary Spelling City Review


SpellingCity.com is an award-winning education site dedicated to helping students improve their vocabulary skills. It offers several free and premium education programs for students, teachers, and school systems.
SpellingCity.com is continually augmenting and enhancing its features to ensure students the most engaging and effective learning experience possible. With over 2 million monthly visitors and 40 million page views, SpellingCity.com is among the most popular education websites in the U.S.
An Brief Overview
Like most reputable education programs, SpellingCity.com offers a free version that offers students unlimited access to basic spelling tools, activities, tests and exercises. However, unlike most free offers, SpellingCity's free version really has teeth. It meets all the basic needs for K12 students seeking a basic, yet comprehensive, solution for incrementally improving both vocabulary and spelling.
SpellingCity's premium membership offers a variety of advanced features, games, and systems for parents and teachers who want to take the education of their children or students to the next level. Many of the programs offered through premium membership, like Words Their Way, allow teachers to differentiate spelling instruction based on a students' needs and their stage of development.
The Premium Package
The Premium Package offers so many unique benefits, we don't even know where to start. Below we've listed just a few of its salient benefits.
1. You can set up an unlimited number of spelling groups - each with their own lists. Each group can be named based a students stage.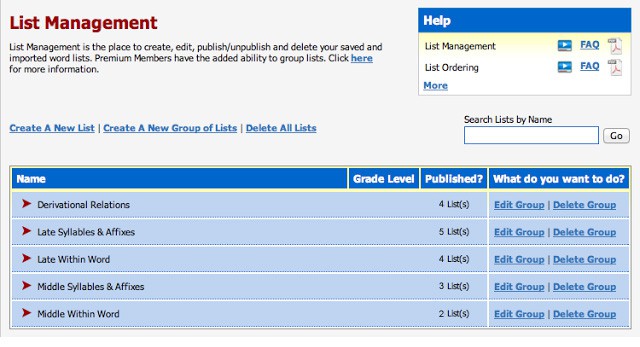 2. Spelling City allows teachers and parents to create vocabulary and spelling assignments for studetns, which are completed online, either at home from an Internet enabled computer at school. Teachers can see which games, exercises, test, etc. are completed by students, the amount of time spent on each activity and monitor progress.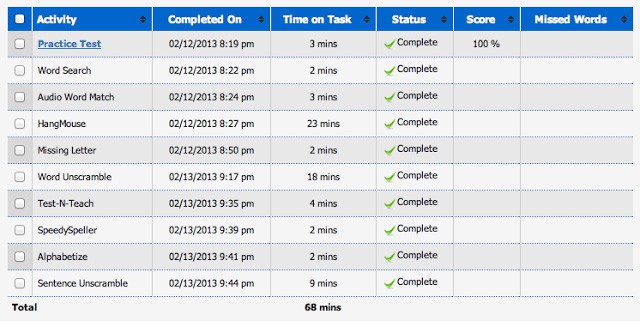 3. Spelling City offers various options for setting up and taking tests – even an app for those wanting to use iPads to administered and take takes. Giving spelling tests is much easier for teachers (less preparation required than a traditional spelling test) AND the tests are interactive for students. Spelling words are presented in both visual and audio format and students have the option of having a word repeated to them. Students can even request to have a word used in a sentence.