ABC Mouse Review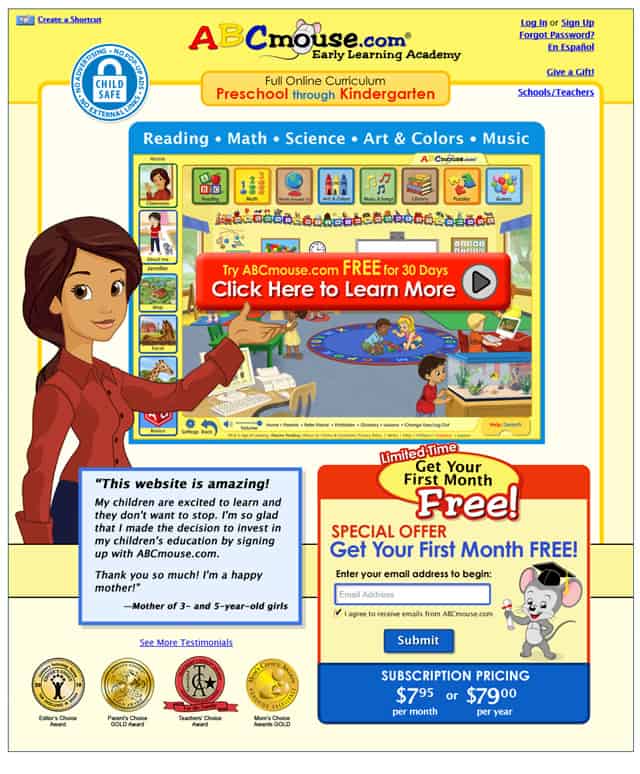 ABCMouse.com is dedicated to helping children build a strong foundation for future academic success. The website offers a comprehensive, engaging and interactive online learning curriculum designed specifically for early learners at the preschool, kindergarten, and early elementary levels (ages 2 to 6).
While ABCmouse.com is offered free to all public schools in the U.S. and Canada it is a subscription-based education website that costs about $7.95 a month (there is a discount offered for annual subscriptions). Custom programs are available for Public and Private Schools, Teachers, Head Start programs, Homeschoolers and Parents.
What You Should Know
The site is highly interactive, engaging, entertaining and very easy for even the youngest computer uses to navigate and use. Kids learn the fundamentals of math and reading, in preparation for elementary school, and are introduced to art, music, science, and social studies. ABCMouse provides a great foundation for future learning opportunities. Since it is a paid site, there are no ads or external links to other sites.
Given its easy to understand navigation, and colorful, engaging features, the ABCMouse.com website is also a great introduction for youngsters to online learning. From the engaging learning zoo to the vibrant kindergarten classroom, there are so many different activities, games and choices that most preschoolers will find something new and entertaining every time they come back to the site.