Alabama Community Colleges and Technical Schools
Pursuing an education at a community college used to be thought of as sub par to earning a degree from a four-year college or university, but not anymore. The fact is, many career minding students and aspiring professionals now prefer earning a degree and getting the training they need to launch a career by attending a community college or technical school. Among the many reasons why are cost and benefit.
So let's take a look at the cost of attending a 2-year community college vs a 4-year college or university. Consider the following chart that compares the annual average tuition cost of college level students in the state of Alabama for 2013.
AVG. TUITION COSTS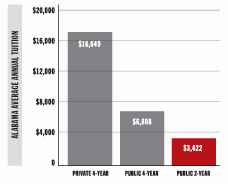 As you can see that the cost of attending a community college in Alabama is much lower than the cost of attending either private or public 4-year college. And anymore, the benefit of attending a 4-year college over a 2-year community college just isn't that great either. All things considered, earning a degree or certificate from a community college in Alabama these days makes a lot of sense – to a lot of people.
Even though Alabama isn't the largest state in the nation, based on area or population, it has a relatively large number of community colleges and technical schools. In all, Alabama is home to 20 community colleges and 20 technical vocational schools – all of which offer 2-year associate degree programs, 1-year professional certificates or academic diplomas. All community colleges in Alabama belong to the Alabama Community College System (
https://www.accs.cc/
). Most of the states technical and vocational schools are privately owned and operated.
Several of Alabama's community colleges are even ranked among the top in the nation. The
Marion Military Institute
and
Northeast Alabama Community College
were recently ranked among the 50 best community colleges in the United States. The Aspen Institute listed Northeast Alabama Community College among the top 10% off all community colleges in the United States as recently as 2013.
Below you'll find a comprehensive list of the 1 and 2-year community colleges, technical institutes and vocational schools located in Alabama. To learn more about an individual school just click on its link.
| | | | |
| --- | --- | --- | --- |
| School | Location | Type | Accreditation |
| Alabama Southern Community College | Monroeville, AL | Associate's college | SACS |
| Alabama State College of Barber Styling | Gardendale, AL | Technical | ACCSC |
| Bevill State Community College | Jasper, AL | Associate's college | SACS |
| Bishop State Community College | Mobile, AL | Associate's college | SACS |
| Blue Cliff Career College | Mobile, AL | Technical | ACCSC |
| Brown Mackie College-Birmingham | Birmingham, AL | Technical | ACICS |
| Cardiac and Vascular Institute of Ultrasound | Mobile, AL | Special-focus Institution | ABHES |
| Central Alabama Community College | Alexander City, AL | Associate's college | SACS |
| Chattahoochee Valley Community College | Phenix City, AL | Associate's college | SACS |
| Community College of the Air Force | Montgomery, AL | Associate's college | SACS |
| Enterprise-Ozark Community College | Enterprise, AL | Associate's college | SACS |
| Fortis College-Montgomery | Montgomery, AL | Associate's college | ACCSC |
| Fortis College-Foley | Foley, AL | Associate's college | ACCSC |
| Fortis College-Dothan | Dothan, AL | Associate's college | ACCSC |
| Fortis College School of Cosmetology | Mobile, AL | Associate's college | ACCSC |
| Gadsden State Community College | Gadsden, AL | Associate's college | SACS |
| George C Wallace Community College-Dothan | Dothan, AL | Associate's college | SACS |
| George C Wallace Community College-Selma | Selma, AL | Associate's college | SACS |
| George C Wallace State Community College-Hanceville | Hanceville, AL | Associate's college | SACS |
| H Councill Trenholm State Technical College | Montgomery, AL | Associate's college | COE |
| ITT Technical Institute-Bessemer | Bessemer, AL | Technical | ACICS |
| ITT Technical Institute-Madison | Madison, AL | Technical | ACICS |
| ITT Technical Institute-Mobile | Mobile, AL | Technical | ACICS |
| J F Drake State Technical College | Huntsville, AL | Associate's college | COE |
| J F Ingram State Technical College | Deatsville, AL | Associate's college | COE |
| James H Faulkner State Community College | Bay Minette, AL | Associate's college | SACS |
| Jefferson Davis Community College | Brewton, AL | Associate's college | SACS |
| Jefferson State Community College | Birmingham, AL | Associate's college | SACS |
| John C Calhoun State Community College | Tanner, AL | Associate's college | SACS |
| Lawson State Community College-Birmingham Campus | Birmingham, AL | Associate's college | SACS |
| Lurleen B. Wallace Community College | Andalusia, AL | Associate's college | SACS |
| Marion Military Institute | Marion, AL | Associate's college | SACS |
| New Beginning College of Cosmetology | Albertville, AL | Technical | ACICS |
| Northeast Alabama Community College | Rainsville, AL | Associate's college | SACS |
| Northwest Shoals Community College-Muscle Shoals | Muscle Shoals, AL | Associate's college | SACS |
| Paul Mitchell The School-Huntsville | Huntsville, AL | Technical | ACICS |
| Prince Institute of Professional Studies Inc | Montgomery, AL | Technical | SACS |
| Reid State Technical College | Evergreen, AL | Associate's college | SACS |
| Shelton State Community College | Tuscaloosa, AL | Associate's college | SACS |
| Snead State Community College | Boaz, AL | Associate's college | SACS |
| Southeastern School of Cosmetology | Birmingham, AL | Associate's college | NACCAAS |
| Southern Union State Community College | Wadley, AL | Associate's college | SACS |
| The Hair Academy | Montgomery, AL | Technical | ACICS |
| Xcell Academy-A Paul Mitchell Partner School | Hoover, AL | Special-focus institution | ACICS |
Copyright 2017 Educationcorner.com. All rights reserved. (v1.1)